Purple Haze to hybrydowa odmiana konopi z przewagą sativy. Ma silne działanie umysłowe i jest ulubieńcem entuzjastów marihuany, którzy szukają czegoś wyjątkowego.
Dlaczego odmiana marihuany Purple Haze jest popularna?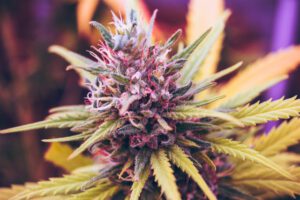 Odmiana marihuany Purple Haze staje się popularna nie tylko ze względu na swój efekt, ale też fakt, że jest mieszanką znanych szczepów sativa i indica. Zapewnia bardziej zrównoważony haj niż jej rodzice. Sprawia to, że roślina ta jest doskonałym wyborem dla osób, które nie chcą czuć się zbyt oszołomione lub zmęczone.
Odmiana marihuany Purple Haze została wyhodowana, aby zapewnić zrównoważony haj, który jest idealny do codziennego życia. Jej efektem jest wywołanie stanu euforii, pobudzenia i uszczęśliwienia.
Popularność zyskuje odmiana auto tej konopi. Jest łatwiejsza w uprawie i kwitnie niezależnie od warunków świetlnych, zapewniając identyczną warstwę terpenów, co nadaje jej taki sam posmak charakterystyczny dla mircenu.
Nasiona purple haze można bezpiecznie kupić przez internet w tym sklepie.
Skąd się wzięła fioletowa konopia Purple Haze?
Fioletowa konopia została pierwotnie wyhodowana w latach siedemdziesiątych. Odmiana zapewnia działanie pobudzające. Wykazano, że łagodzi ból i poprawia apetyt. Jej główna cecha to ciemnofioletowo-niebiesko-zielone pąki.
Odmiana Purple Haze jest jedną z najpopularniejszych odmian i jej po prostu krzyżówką dwóch innych odmian – Haze'a i Purple Thai. Charakteryzuje się wysoką zawartością THC, które może osiągać stężenie około 20%. Działa poprzez łagodzenie objawów stresu, stanów zapalnych, nudności, stymulację apetytu i poprawę snu.
Popularyzacja Purple Haze nie jest jasna, ale uznaje się, że doprowadził do tego Jimi Hendrix przez swoją piosenkę wydaną w 1967 roku, jednak to tylko spekulacja, a sam muzyk plotkę tę zdementował.